Opening hours
Tuesday - Thursday 11.30am - 3.00pm &
6.00pm - 11.00pm
Food Served12.00pm - 2.00pm
6.00pm - 9.00pm

Friday 11.30am - 3.00pm &
6.00pm - 11.00pm

Food Served12.00pm - 2.00pm
6.00pm - 9.00pm
Saturday 11.30am - 3.00pm &
6.00pm - 11.00pm

Food Served12.00pm - 2.00pm
6.00pm - 9.00pm
Sunday 12.00 noon - 10.30pm
No Split Day on Sunday
Food Served12.00pm - 4.00pm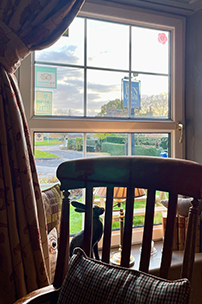 Welcome!
Welcome to The Inn on the Green at Ingham
The Inn as we and the locals call it, is a Grade II listed lime stone building, overlooking the pretty village green of Ingham, only a 8 mile drive from the historic city of Lincoln.

This little hideaway in the Lincolnshire countryside, has been plying its trade under the present owners Sarah & Andrew for 8 years now.

Lincolnshire is a fantastic place for local food produce of all types and we take great care in choosing the best to serve at The Inn on the Green.


Enjoy your Dining Experience Here at The Inn
We invite you to join us for Lunch and between 6 & 7pm for our New Earlybird Menu
(A simple and traditional menu with something for everyone)
You can also come and relax for the Evening and join us for Dinner
(A Seasonal Menu which changes Monthly)
Not forgetting your Family Time on Sunday
(Traditional Roast & Sunday Menu)
Bookings Essential!
Exclusive To The Inn on the Green
We are offering a Private Party Package for as little as £30.00. Please call or email us to find out more….
Not to be Missed!!
Reservations
ReservationS
Bookings are advisable.
To make a booking Tel: 01522 730354
Unfortunately we do not take bookings via email. Thank you

Andrew Cafferkey
Co-owner & Chef